More than 5 emotional stars.
 ♥ The Blurb ♥
He found me in blood and tears.
I stayed with him through darkness and fire.
We loved each other in the moment between innocence and bitter truth.
We were the kids easily ignored, who grew into adults we hardly knew.
We weren't meant to last forever. And we didn't.
He ran away.
I tried to move on.
Yet I never stopped thinking about the boy who had fought to keep me alive in a world that would have swallowed me whole. He was the past that I buried, but never forgot.
Until the day I found him again, years after believing I had lost him forever.
And in cold, resentful eyes, I saw the heart of the man who had been everything when I had nothing at all. So I vowed to hold onto the second chance that was stolen from the children we had been.
Sometimes fate is ugly. Life can be twisted.
And who we are can be ruined by who we once were.
For two people who had survived so much, we would have to learn how to hold on before we were forced to let go.
 ♥ My Thoughts ♥
Well, at 30% on Goodreads, my reading progress status…. I was looking like Stitch from the incredible Lilo & Stitch Disney movie.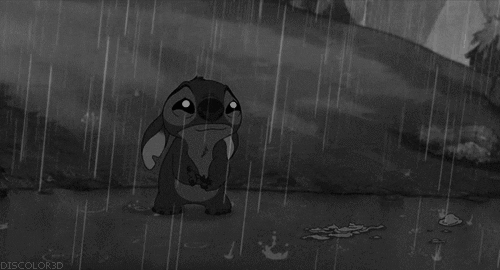 "We'll walk on the beach, Imi, and we'll dance on the sand. Because one day soon, I promise you that all this ugly will become something beautiful."



I wanted something funny or something light and sweet but all the fantastic reviews about the latest book of one of my favorite authors led me astray. I got an intense and deeply touching story that made me cry my eyes out and run out of tissues. I love Meredith Walters because she always writes different stories but all have one common trait: they hit you square in your soul, like a punch to your heart.
One Day Soon is about many things and broach difficult topics. It's a second chance at love story but it's also about the harsh reality of homeless teenagers, raped, beaten, hungry and forced to sell their body or drugs if they don't want to die.
Imi is sixteen when she runs from her house. She's never been seen by her mother and she does not want to live with her any longer. She'll go "under the bridge" where homeless people gather and try to live together. Ill equipped to survive on the street, naïve she'll be rescued from abuse by Yoss, 18 years old, living on the street since he turned 12.
Yoss introduced Imi to his family of friends, all homeless teenagers and all endearing characters: Shane the boy with the skateboard, Bug the addict with the lame jokes, Di the pierced girl,… They all followed Yoss and had each other's back.
Yoss is a "savior" and he protected his friends the only way he knew: by selling his body to earn some money so he could help them to survive.
"Yossarian Frazier wasn't an overly complicated person. He was smart. He was thoughtful. He was generous and kind. He was loyal to a fault. And he was someone who has been forced to make choices that would shatter most people."
More than anything else, he did not want to taint Imi. She was pure and innocent and he wanted to shelter her. Imi fell in love with the wonderful boy but she struggled with what he did. She was very conflicted because he sacrificed himself to protect her and she was ashamed to feel disgust for what he did.
" I didn't want to lose what I felt for Yoss. It was good. It was pure. It was the only light in this dark, horrible world. I was terrified that if I did feel differently, what that would say about me."
Yoss is truly one of the most beautiful characters I've ever met in a book. He was so strong and so broken at the same time. I wanted to take him in my arms and protect him from this ugly world, like he did for Imi. You can't not love Yoss. He was a very beautiful person. My heart broke each and every time he had to "go out" as it destroyed him little by little but he did it nonetheless, not only to survive but to provide food and clothes for his friends and, above all else, to protect Imi the best way he could.
"Here was a boy barely holding himself together. He seemed as though he wanted to curl into himself. I wanted to shield him from everything horrible. Everything ugly. Just as he had been trying to do for me."
It was a harsh and dangerous life but everything was magnified, felt more. The author does not shy away from the ugly truth of homeless life. She gives like it is. But in this fight for survival, Meredith Walters also gives us bright rays of sunshine and pearl of wisdom. We are reminded how it also is important to live for the present. To find beauty in simple things. Yoss made everything beautiful , meaningful. Each trove was a treasure to be cherished. He showed Imi she could be happy, live wonderful moments.
"Imi, if this is the life you want for yourself, though I can't imagine why it would be, you're going to have to find a way to embrace it. It's the ones who wallow in self-pity that curl up and die out here. Seize the moments you're given otherwise the world will eat you up and spit you out."
To escape their reality, they made fairy tales with happy endings. It was deeply moving to see these two lost teenagers, rejected by society, shunned by their families to love each other so strongly. When they were together, everything was brighter, they could hope, they could dream. I could feel their love pouring through my Kindle to warm my heart.
When Yoss left Imi, she became a shell of herself. She survived and from the outside had everything she could wish for: a job, a house, she was married for some time but inside, she was empty. Some vital part was missing. She felt lonely and had to fill the emptiness by hoarding many things.
When she meets Yoss many years later, all the love that she felt surged back. She wanted her second chance at happiness, she wanted their fairy tale to come true. She wanted their walk on the beach. But Yoss had changed, he was very sick and would he want that future with her?
"But time was running out and I was afraid that no matter how tightly I held on, it wasn't enough. That he would always slip through my fingers. Maybe after all these years I was still just a girl standing in the rain. Waiting for a boy who would never come."
Now, I feel bereft. I've been swept off my feet by Imi and Yoss story and I have to go back to reality.